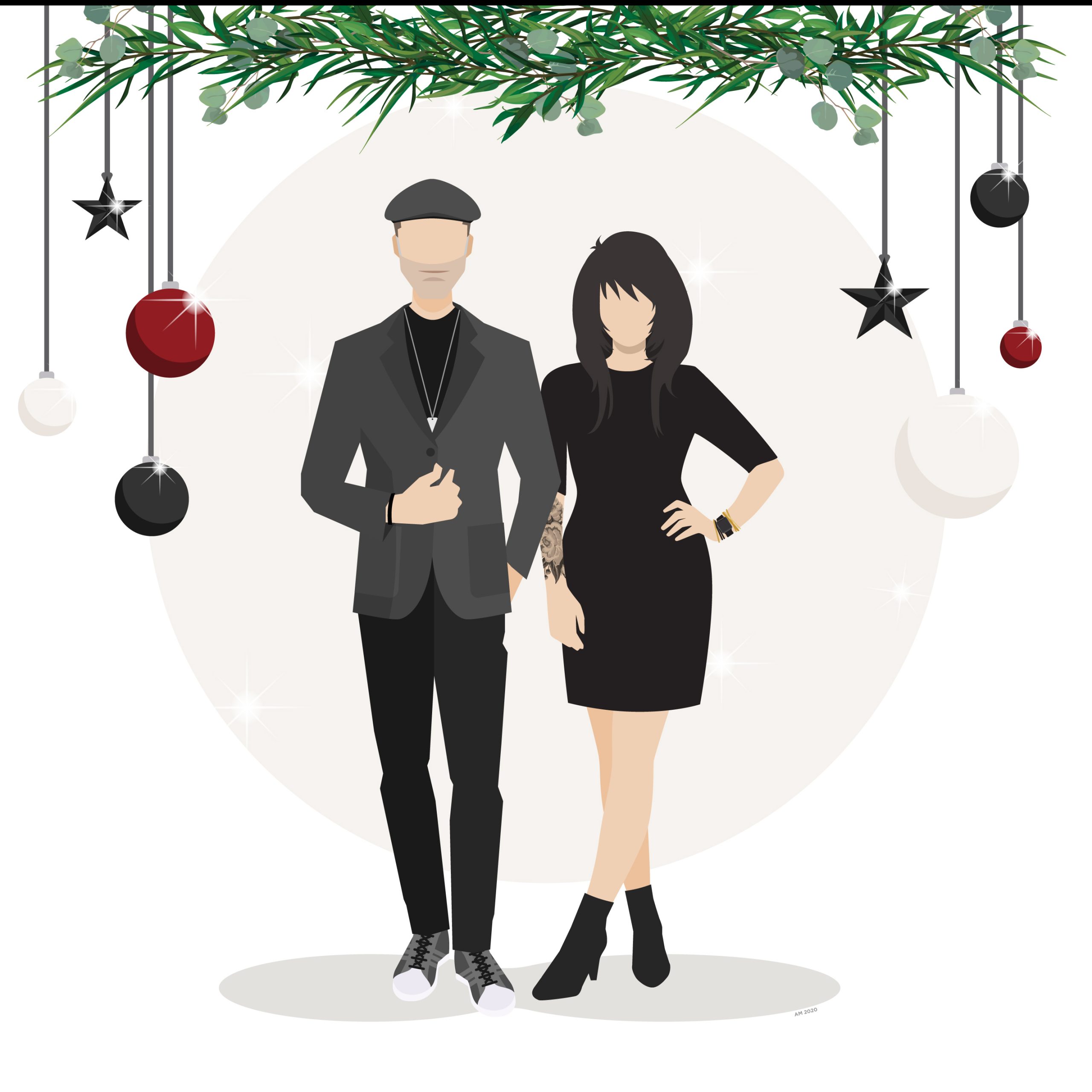 We wish we could get all dressed up and celebrate the holidays with you in person. Until it is safe to do so again, this digital greeting will have to do.
Meanwhile, we will be in comfy pants looking nothing like we do in this illustration. 🙂
Happy holidays + best wishes for the new year!
All our love,
John + Amanda
Our Gift to You
It's no secret that we love charcuterie boards — lovingly named "Snack Dinner" around here. Let's be real, any time we can have cheese for dinner, we're happy campers! One thing we've realized is that it's the little embellishments that take it to the next level. These boozy cranberries are the perfect addition!
Cranberry sauce is not just for the Thanksgiving table anymore, although it's always a favorite every year! This stuff is amazing on crackers with goat cheese, with greek yogurt, or honestly, just by the spoonful. Additionally, it freezes well, so you can enjoy this boozy, tart treat all year long.
Which booze to add is totally up to you. I've experimented a few different ways and it's great each time. This last batch was made with just Makers Mark, so it's less sweet than normal.
If you'd like to make a batch of your own, the recipe is below! Also, you can click on the recipe image to save to your Pinterest board for future reference.
RECIPE // Boozy Cranberries
Makes approximately 2 cups.
Ingredients
2 12 oz bags cranberries
3/4 cup sugar
1/4 cup water
2/3 cup fresh squeezed orange juice
2 tablespoons grated orange rind or orange zest
2 cinnamon sticks
1/3 of a whole grated nutmeg
1/2 tsp ground cinnamon
1/2–3/4 cup bourbon
1/4–1/2 cup amaretto (optional)
Instructions
Rinse the cranberries and add to a large saucepan.
Add the sugar, orange juice, orange rind, water, cinnamon sticks, grated nutmeg, and ground cinnamon.
Bring to a low boil for 3–4 minutes. Lower heat to a simmer. The cranberries will start to pop and cook down to a thickened sauce.
Once the everything has cooked down, add the bourbon (and optional amaretto) to taste, starting with the smaller amount.
The cranberry sauce will continue to thicken as it cools. Transfer the sauce to jars to finish cooling. Cinnamon sticks can be removed or left in the jar. I've found that when left in, it gives a slightly more cinnamony flavor.
Best when served cold. Enjoy!